"With fists like these? I don't even gotta pack no heat."
—Xzibit
Xzibit is a featured fighter in Def Jam series and is a playable character in Def Jam Fight For NY and Def Jam Fight for NY: The Takeover.
Biography
Edit
Xzibit was born in Detroit, where at the age of 10 he began to rap. When he was 17, he jumped into his Jeep and headed toward Los Angeles. In 1992, Xzibit met with producer Broadway, through the group Madcap. His first song was "Freestyle Ghetto" on King Tee IV Life, and after that he got on the Liks's "Coast II Coast" and decided to go on tour with them. He points to his mother, who was a writer, as his source of creativity. Xzibit's rhymes resonate because he speaks from the heart as an individual, rather than trying to portray a phony hip-hop persona. He has lived through many dramatic times in his life, so he raps primarily about his own life experiences, and is not afraid to reveal himself. Xzibit eventually worked with Snoop Dogg and Dr. Dre, and helped on Dre's "2001." Through that work he became good friends with Dre, Snoop, Eminem, and others on the Aftermath staff.
Def Jam Fight For NY
Edit
After the demise of Trejo, Xzibit's take his place as the club boss of The Limit. Hero battles him, after speaking with Crow and takes the club for D-Mob.
Def Jam Fight For NY: The Takeover
Edit
If fighting for the Manhatten Crew, Xzibit sends a message concerning issues about the crew and askes to meet at Hunt's Point Scrapyard, but the protagonist figures out the real reason why he called him there and both settled their dispute in a fight.
"Take it however you wanna take it, you just plain suck. Ha Ha." - Victory Outro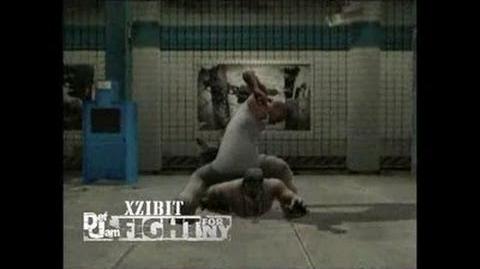 Xzibit's blazin move is named after his song of the same name.
Xzibit also appeared as an unlockable in EA's NFL Street 2.
Ad blocker interference detected!
Wikia is a free-to-use site that makes money from advertising. We have a modified experience for viewers using ad blockers

Wikia is not accessible if you've made further modifications. Remove the custom ad blocker rule(s) and the page will load as expected.