The Game
Also Known As
Doctor's Advocate
Voiced By
Himself
Appears in
Def Jam Icon
Fighting Style
Muay Fly
Default Fight Song 1
"One Blood" by The Game
Default Fight Song 2
"Scream On Em" by The Game
The Game is a featured fighter and a playable character in Def Jam Icon.
Biography
The Game is from the birthplace of Gangsta' Rap, Compton, CA. But this a new, different Westside story, one that joins with the Eastside while paying respects to rap's hardcore pioneers of the '80s, NWA. The Game, a former gangbanger who turned to rap after being shot five times and left for dead, is about peace not war. Working closely with Dr. Dre on his debut album; This Game is for real. There's more than anger in this next generation NWA. There's pride and even optimism for the future. The Game has only just begun.
Def Jam Icon
The Game plays the role of an unsigned artist or an artist that is already signed by Troy Dollar. If not already signed, Playa can sign him to Carver's record Label as their fourth artist.
Quotes
"Come on one more shot right there"
"Oh you felt that didn't ya?"
"Pick ya teeth up"
"Question is, can you take another one?"
"This how I do!"
"Open up!"
"This that gangsta ish!"
"Step back!"
"I'm tired of this shit"
"Bout to get broke off"
"That's the way of the westside"
"Get on with that shit!"
"You straight garbage!"
"Broke you up with that one"
"R.I.P.!"
Gallery
Video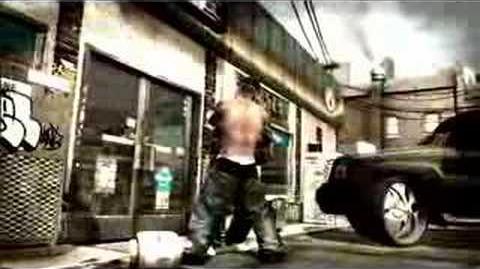 Trivia
Early screenshots shows that The Game originally wore a red shirt. This could be due to his Cedar Block Piru Bloods affiliation.