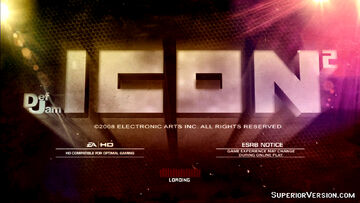 Def Jam Icon 2 is a 3D fighting game and a sequel to Def Jam Icon. This game would've been the fourth in Electronic Arts's Def Jam-licensed hip hop video game series. Assumingly, the game was in development sometime in late 2007 by EA Chicago, but was cancelled due to the closing of the studio. A beta of the game was leaked by the now closed website, SuperiorVersion.com.
Features
On a leaked video, the game featured modes such as Throw Down, Obey and UCM.
Like it's predecessor, the developers continued to make the music and the environment a much larger factor in the fight.
The gameplay looks identical to Def Jam Icon, but now with a faster framerate and featured fighting combos that can be intergrated into powerful grappling moves. Theres also an attack that launches your opponent in the air. The song switching feature appears to have returned from the first game, but now its seems that not only the song changes, the stage itself changes to the one of the player's choice.
Only two fighters were shown in the video, one was called Playa (presumingly the protagonist of Def Jam Icon) and the other is T.I., who is taking the appearance of his troublesome alter ego, T.I.P. from his album T.I. vs. T.I.P. Ludacris was also seen in the loading screen.
Stages
Only three stages exists in the beta.
Physics Testbed (What Happens Here Stays Here) - an empty test stage.
Tarmac (Ground Level Turbulence) - a stage that takes place at an airport.
Custom Car Shop (Pop Goes The Diesel) - a stage that takes place at a car shop.
Soundtrack
Only two songs were revealed in a video.
Rich Boy - Boy Looka Here
T.I. - Big Shit Poppin' (Do It)
Gallery
Video