Blazin' Moves are finishing moves that are featured in Def Jam Vendetta, Def Jam Fight For NY and Def Jam Fight For NY: The Takeover.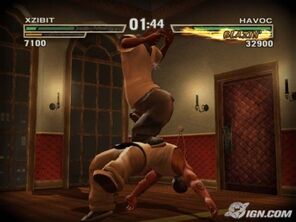 Description
Blazin' Moves, these techniques are the dopest way to smack down your opponents. Your Momentum Meter increases after every successful attack or taunt. Once you have gained full momentum, enter blazin' mode and grapple your foe for some sick action. Each character has his specific blazin' move, so you have to play them or beat them all to see the whole brutal gamut of techniques. If your opponent's health is at danger around the time the move is executed, you'll automatically get a KO.
Def Jam Vendetta
Only two blazin' moves can be performed per fighter. One is the front blazin' move and the other is the rear.
Def Jam Fight For NY/ The Takeover
Unlike it's predecessor, only one blazin' move can be performed by the fighter, with Hero being the only exception. New blazin' moves can be purchased at Stapleton Athletics in story mode.
Videos